This blog charts the research, process and outcomes of my artistic practice.
2021 – 2022
Juukan Tears
The image below is of Juukan Tears, a piece commissioned for the Indian Ocean Craft Triennial (IOTA:21) in Perth in 2021, which will soon to go on display as a finalist of the North Sydney Art Prize.
Clock here! for my collection of posts about Juukan Tears, and also check the media highlights at the end of this article. To accompany this piece I made a limited series of jewellery pieces from parts leftover from the making process, entitled Juukan Tears Offcuts. Garland Magazine then asked me to write about the contrast of having works in the main display as well as the gift shop, incidentally something that had niggled my brain throughout the making of the 'Offcuts works.
2019 – 2020
Everything Must Go + more
I detailed my 2020 lock-down project Everything Must Go on this platform, and my most recent solo exhibition, Marfa, TX, (2019) that took place at Bilk Gallery in Canberra. Also documented are my past and recent curatorial experiences, including as Connexions (2020-2021).
2017-2018
Raphael Prizewinner – Contemporary Craft, Pittsburgh
This blog is also a research platform, as it contains dozens of posts I wrote as background to my Raphael prizewinning piece 1.1.2017 (2017-2018). Using online sources I researched each of the guns used on one day of gun violence in the USA. For ten months of Mondays I detailed my findings, and my drawings of weapons, on the blog. I then paired the drawings with objects found in each of the towns where the weapons were used to kill, to make the piece 1.1.2017. This short captures the project:
2013 – 2016
Body Politic / Escalation Series
Body Politic (2016), was my previous show at Bilk, for which they too host a great archive. The posts on the Escalation series (2013-2020) detail some of the works from this show. The aforementioned pages coexist with those showing works made for a whole host of one-off works and limited jewellery series, made for specific exhibitions over the last 13 years.
Gallery
Below is a sample of my recent works – see Instagram for the very latest images from my studio – including in-progress and finished pieces. Also check out melissacameron.net for my work archive (pre-2013).
Click to download a copy of my CV.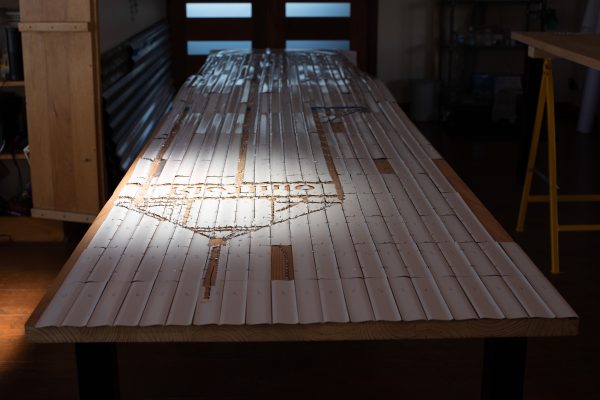 More – links from making and promotion of Juukan Tears
Making Of – Short Film – a YouTube clip that charts several processes involved in making Juukan Tears. Made for the John Curtin Gallery (JCG) screen – displayed in their video rotation alongside other artist videos during the Indian Ocean Craft Triennial – Curiosity and Rituals of the Everyday in Sept/Oct 2021.
Melissa on The Couch, the community news show broadcast from Perth. (Cued to start of interview – approx 45:15 mins). We chat Indian Ocean Craft Triennial – 21, and my work Juukan Tears as displayed at JCG.
Melissa's ArtBeat radio segment with Bec Bowman on RTRFM, Oct 1, 2021
The Department of Local Government, Sport and Cultural Industries Showcase website, featuring an image of Juukan Tears. The making of that work was partially funded by the DLGSCI in WA. This image was also featured on the big screen in Yagan Square, Perth.
Art Guide AU article about the IOTA:21 festival by Sheridan Hart. Contains writing and images about Juukan Tears.
My YouTube Channel where I documented the hundreds of house involved in making Juukan Tears in real time. Also featuring my studio assistant Susannah Kings-Lynne! Among the 186 streams of making the Juukan Tears work are two question-and-answer sessions, with questions from my social media and our viewers.